What's it for? | How does it work? | Shipping Partial Cargo
E-Commerce and Remote shipping from the USA
With this online freight calculator, international e-Commerce order deliveries from the USA has become easy and more affordable.
No matter either you buy or sell on the U.S. market. No matter where in the world you are. With this online freight calculator, you can manage relatively large e-commerce deliveries from the USA using economy LCL freight service, at the convenience of your office or home, or even on the go.
As soon as you've got a deal, just go on this online freight calculator and:
Calculate costs of your order delivery from the USA considering different scenarios in your business. No need to wait for price quotes. Get it in real-time. It's free, available 24/7, and there are no obligations.

Not sure yet in the exact size and weight of your order? That's OK. Just roughly estimate. Your shipping cost will be adjusted to the actual weight-measurements of the order.
Click on the picture to watch a three-minute video on YouTube about how the online freight calculator works.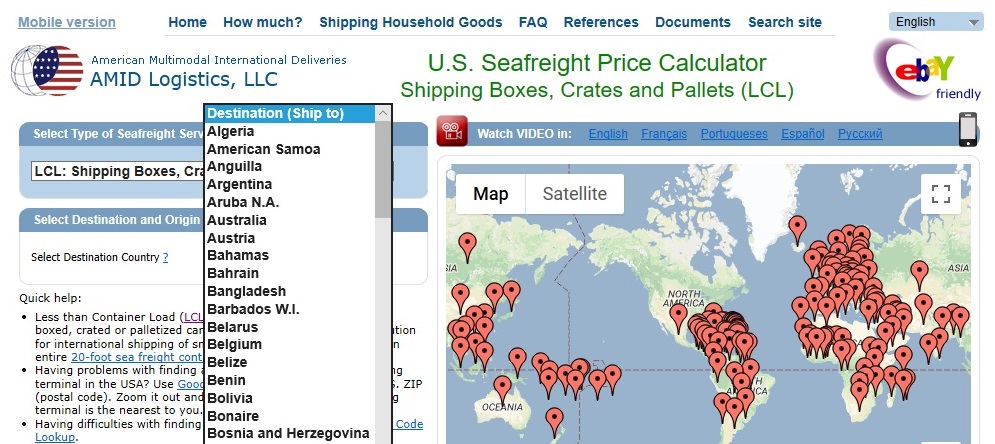 This online freight calculator allows you to deliver from the USA goods packed in boxes and crates. If you ship goods in boxes, it can be properly palletized for international transportation obeying ISPM 15 regulations.
Most of the time, U.S. merchants support e-commerce order deliveries in the USA only. They ship orders within the USA for a reasonable fee or even for free.
Small and midsize U.S. businesses typically do not ship orders out of the U.S. They avoid being involved in procedures related to international cargo transportation. However, they never mind selling goods overseas. If an American forwarder's organizing international deliveries of goods sold to foreign buyers, they always welcome such a business.
AMID Logistics is such a U.S. freight forwarder.
What's more is that AMID Logistics offers to utilize the online freight calculator, making it possible to completely plan international freight independently 24/7 and book international deliveries after all the preparatory work is done.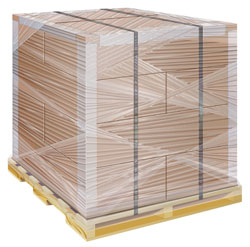 Please note that our primary business is LCL freight. LCL means shipping from the USA relatively large cargo by the sea that is properly packed for international transportation in boxes, crates, or stacked on pallets. We are not involved in airfreight. We do not ship motor vehicles.
With American Multimodal International Deliveries (AMID Logistics), shipping LCL freight from the USA abroad is easy and comfortable.
At the time of purchasing goods from a U.S. merchant, you should clarify whether the purchase price includes the cost of delivery within the U.S. or not.
A. If Yes, the U.S. merchant provides deliveries within the USA, then:
Please select your destination in our online freight calculator. Then you will see the list of available freight terminals where your order can be delivered for shipping overseas

*

. Calculate a price quote and, when ready, book the shipment online.
Upon your booking and deposit, you should receive our email with shipping instructions, typically in 24 business hours.
Read these instructions and, if everything is in order, deliver, or ask your merchant to deliver your order to the freight terminal in the U.S. for further international shipping**.
B. If Not, the merchant DOES NOT provide deliveries within the U.S., then:
When calculating a price quote on the website, select in the pickup options, the option 'YES. PICKUP IS REQUIRED'.

Then book your international shipment via the quote and get our email with shipping instructions on the pickup.

Ask the American merchant to prepare your order for international delivery and follow the instructions. We will schedule the pickup with a U.S. domestic LTL trucking company. On the appointed pickup day, a pickup driver will pick up the order for further international shipping.
All further shipping procedures will be the same as the procedures explained in this step-by-step guide.
*Please note that the most economical way to ship overseas is to directly deliver your order to an ocean freight carrier's terminal (CFS). Such terminals listed in our online freight calculator in the upper case and highlighted. For example, PHILADELPHIA, PA.
And between those CFSs, most likely, the cheapest should be on the U.S. East coast - NEW YORK, NY, and on the U.S. West coast - LOS ANGELES, CA.
**VERY IMPORTANT! If a U.S. merchant requesting a third party U.S. trucking company (UPS, FedEx Freight, etc.) to arrange an order's delivery to a freight terminal appointed in our shipping instructions (you have selected NO PICKUP REQUIRED), then upon receipt of our email with shipping instructions, please pay extreme attention to:
The freight terminal address and the contact information and;


If the order is delivering directly to an ocean freight carrier's freight terminal (called CFS - Container Freight Station), then the CARRIER'S BOOKING NUMBER IS THE KEY NUMBER to recognize and accept the order at the CFS.

As already mentioned above, CFSs are listed in our freight calculator in the upper case, highlighted and WITHOUT asterisk (*) like

ATLANTA, GA

, for example. Do not confuse AMID's customer reference number with the CARRIER'S BOOKING NUMBER.


If the order is delivering to a U.S. domestic line haul freight terminal (LH) for the ground transportation within the USA to a CFS, your key document is a U.S. domestic LTL bill lading. The LTL bill of lading will be attached to our email with shipping instructions in a PDF file.

Line hauls terminals are listed in our freight calculator in lowercase a WITH asterisk like Akron, OH*, for example.
Ensure that the ocean freight carrier's booking number, which is the key reference number to recognize the CFS delivery, is in your delivery orders. Do not confuse the carrier's booking number with AMID Logistics's internal customer reference number!
If you receive an LTL inland bill of lading, then the number will be already on the bill of lading.
Your order will be recognized at CFS by the BOOKING NO. Then cargo will be accepted by the CFS for international shipping from the USA to the place of delivery in the destination country.

See where you can find the ocean freight CARRIER'S BOOKING NUMBER in the sample of our Dock Receipt: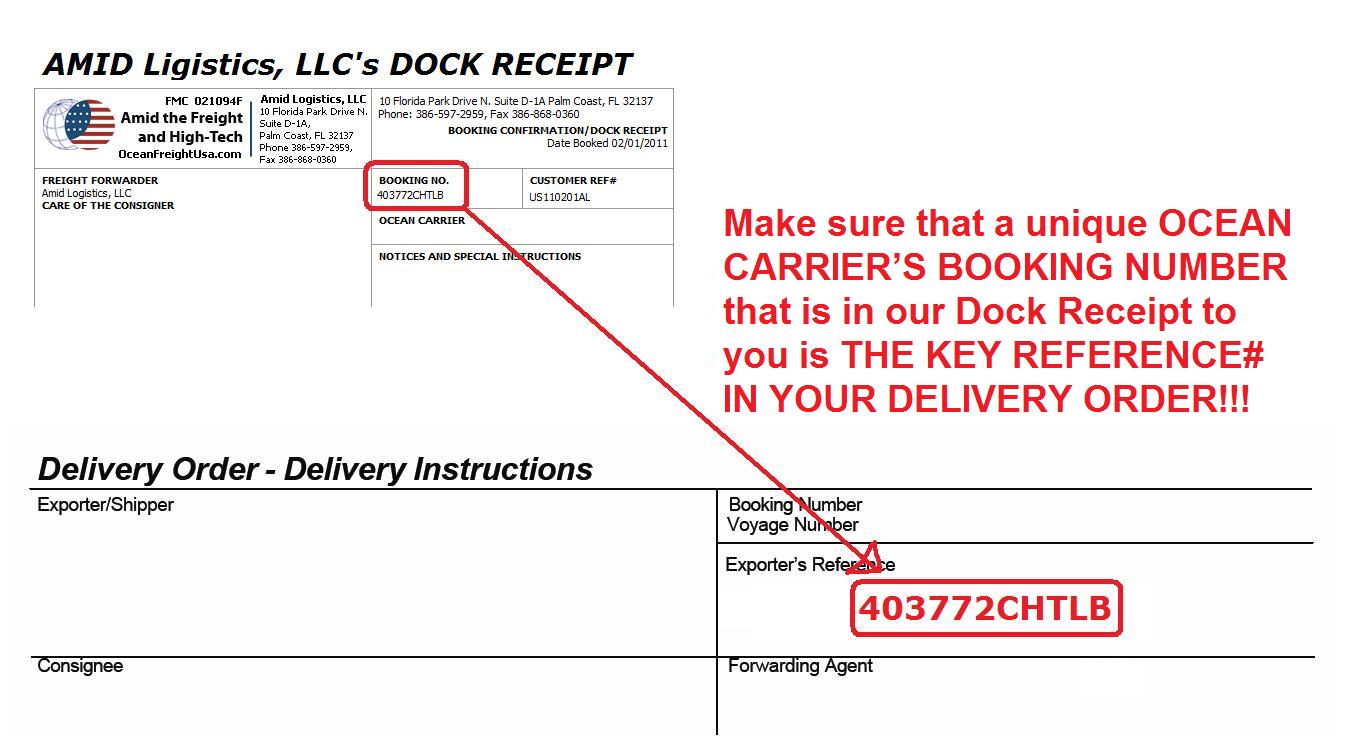 Shipping partial cargo. Combining two or more orders into one single shipment.
Some of our new customers request us to accept several deliveries. They need to combine all the deliveries into one international shipment and ship it from the U.S. overseas under a single sea freight bill of lading.
For example, you remotely buy several smaller orders on Amazon. You need to provide your Amazon merchants with an address in the USA, where all the orders should be delivered to. After that, you need to combine all the orders at the address to deliver from the U.S. abroad.
In respect of LCL freight service, that means that you want us to accept several U.S. domestic deliveries at a particular ocean freight carrier terminal (CFS - Container Freight Station) for the consolidation into one single international LCL shipment.
Yes, we do that all the time. Such international shipments are called "shipping partial cargo." However, customers should be aware of certain conditions and limitations in shipping partial cargo:
Typically, each cargo delivery to a CFS should be booked under one unique AMID's reference and carrier's booking number. Upon the delivery, if shipping documentation is in order, the CFS will do their best to ship the cargo out of the U.S. as soon as possible, automatically, without any additional notices.
If you need to combine two or more cargo deliveries into one single shipment/bill of lading under one ocean freight carrier's booking number, then it must be booked in advance and approved by AMID Logistics.
Typically, SHIPPING PARTIAL CARGO IS LIMITED BY UP TO 3-5 DELIVERIES WITHIN 10-25 DAYS to the same ocean freight terminal (CFS) under the same carrier's booking number. I

f the number of approved deliveries or/and the time limit will be exceeded, then significant storage, handling, documents, etc., charges may apply

.


Please keep in mind that each delivery, with the unique tracking number, no matter a big one or a small one, requires the same attention in the handling. That's why we limit accepting partial cargo by 3-5 deliveries. By increasing the number, becomes time-consuming and sharply increases the risk of operational mistakes.

If you need to accept and combine numerous deliveries, you should search for an agent in the USA who will do such a job. We do not provide such a service. It costs much higher.

Partial shipments are subject to AMID Logistic's partial cargo fee, which is $35 per every single additional cargo delivery on top of the first delivery. Ocean freight carrier's CFS storage, handling, documentation, etc., fees may apply as well.
If you comply with these conditions, please quote and book your partial shipment on our website by selecting LCL: Shipping boxes, crates, and pallets.
At the time of booking, in the COMMENTS AND QUESTIONS line on the bottom of our online booking form, or a separate email to your booking, you have to answer these questions:
How many deliveries should we expect?

How many merchants involved? List your merchants.

What is the time frame for all the deliveries?

Do you understand that free storage time may be limited by 15-25 days, depending on CFS?

Do you understand that the CFS may reject deliveries without the CARRIER'S BOOKING NUMBER on delivery orders?

Do you understand that the $35 fee will apply to every single additional cargo delivery on top of the first delivery?
Also, please keep in mind that shipping partial cargo doesn't mean that someone will check and match shippers' orders.
Yes, we will inform the shippers of each delivery. When possible, we will provide pictures on top of warehouse receipts on each delivery. However, basically, shipping partial cargo means accepting cargo under proper carrier's booking numbers, storing it, and shipper's OK, palletizing it, and shipping it to the destination.
Please note that some international ocean freight carriers do not offer partial cargo service for shipping cargo from the USA. Once again: shipping partial cargo must always be approved!
If AMID Logistics does not approve a partial shipment before we've provided shipping instructions, then every single cargo delivery to CFS will be processed such a single shipment.
Note that shipping from the U.S. partial cargo LCL fits for shipping relatively sizable cargo. Do not confuse LCL partial cargo with a consolidation of small packages into one box like at MyUS.com.
For more details regarding shipping from the USA any kind of partial cargo, please contact us in advance.